Alternative Methods of Strength Training
--The purpose of this guide is to provide alternative strength training exercises for players without access to formal equipment--
Materials
:
1.Playground
2.Rocks
3.Trees
4.Flat ground
5.A stadium/building with stairs
Muscle
Reference:
Exercises on the playground
:
1.
Pull-ups
– These can be done using a branch on a tree or bars on a playground. Begin by gripping the bar with your hands facing away from you and aligned with your shoulders. You arms should be full extended downward. When your chin gets above the bar, that is one rep. Complete as many as you can three times.
a.Wide-grip – The wide grip simply extends your arms a little past your shoulders. This works different muscles than starting with a grip aligned with your shoulders.
b.Close-grip – The close grip is done by gripping the bars with your hands closer together (between your shoulders).
**.Muscles – Shoulders, triceps, forearms, hand grip, pectoral muscles, and latissimus dorsi.
2.
Chin-ups
– Also done using a tree branch or playground bar. Begin by gripping the bar with your hands facing towards you and aligned with your shoulders. Chin-ups focus more on your biceps than pull-ups. The rest is the same process as the pull-up.
Pull-up (left) Chin-up (right)
**Muscles - Shoulders, triceps, forearms, hand grip, pectoral muscles, biceps, and latissimus dorsi.
3.
Dips
– Find parallel bars. Begin by standing up and gripping the one bar with each arm. Pick your feet off of the ground. Lower your body so that your arms are forming a "L". Raise yourself using your arms and lower your body again. Repeat for as many as you can do, with three sets.
a.A related drill using the same equipment is hold you body up using your arms and raising your legs so that they are almost parallel with the bars.
b.Same as the drill of raising your legs, but move your legs from left to right at the same time.
**Muscles – Triceps, Shoulders, Core
4.
Do the monkey!
– Ever notice how monkeys like climbing? Once your arm muscles become accustomed to holding your body weight, you should be able to climb around the playground. Be creative in how you climb. Try climbing up facing backwards, climbing down facing forwards, using varied grips. Climb unorthodox paths across the playground. A favorite of mine is to launch myself from one bar to the next using only my arms.
Monkey Launch
Playground workout
__________________________
Exercises for trees
:
1.
Pull-ups and Chin-ups
2.
Vertical Climbing
– Climb as high up in the tree as you can. Try to use mainly your arms when pull yourself up or lowering yourself down. SAFETY FIRST---always have both of your hands on at least one branch and always check the branch's strength before lifting your self up onto it.
**Muscles – Core,shoulders, triceps, forearms, hand grip, pectoral muscles, biceps, and latissimus dorsi.
__________________________
Exercises with rocks
- Any flat rock(s) weighing between 10-20 or more, depending on your strength. Actually, flat weights or any flat object works, however, rocks are more common.
1.
Chest hold
– Begin by holding the one or two flat objects together with the palm of your hands. They should be held at chest height and close to your chest. Slowly bring it out about a foot from your chest and hold it there for 8 seconds. Slowly bring it back to your chest and hold for 3 seconds. Repeat as many as you can for 3 sets.
**Muscles – Pectoral muscles, shoulders, forearms, triceps, abdominals.
2.
Lateral arm lifts
- Begin by holding one flat object with each hand. Keeping your hand facing towards the ground, raise each arm at and equal pace until it is some what level with the floor. Hold for 5-10 seconds, depending on your strength. Slowly reset to your starting position by lowering your arms to your side. Repeat for 3 sets of 1-2 reps.
a.Perpindicular - Turning the weights so that they are 90 degrees to the ground will train the same muscles in a slightly different way.
b.Martial Arts Block - Bend you knees slightly, shoulder width apart. While gripping the weights, perform a sweeping motion to the outside, much like the arm motions found
Here
.
c. Grip the weights and hold your arms at chest height. Bend them towards your chest, until they are about 4 inches from it. Begin criss cross your hands (holding the weights). Vary the height at which your arms cross each other. The farthest one arm should cross to the other side is to the other shoulder.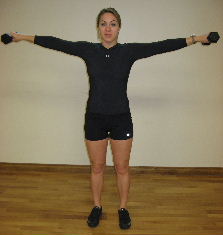 **Muscles - Deltoid, brackioradialis.
__________________________
Exercises on flat ground
:
1.
Handstand
– To begin getting your balance, try doing a handstand against a wall. Once your arms are used to the position and weight, try some on flat ground, soft ground (grass). Your entire body should be a straight line. A good way to keep your legs straight is to point your toes.
a. Once the static handstand is mastered, move on to handstand push-ups. Begin by lowering yourself down until your arms form an "L" at the elbows. Raise yourself backup and repeat.
b.Walking on your hands also provides good muscle use. Advanced skills include walking on stairs, downhill and uphill.
**Muscles - deltoid, trapezious, triceps
2.
Leg Lifts
- Lie flat on your back with your arms on the ground at your sides. Begin to raise your legs together slowly. Your legs should reach a 45 degree angle. Hold for 10-15 seconds. Slowly lower your legs until they are about 2 inches from the ground. Repeat exercise. Start with as many as you can with 3 sets. It is important to remember that abdominal exercises are only half the drill. You should be running and burning fat in order to completely have a well defined abdominal core.
a. Another method of this exercise is to place your hands in fists underneath your butt.
b. If your lower back begins to strain, try finding a heavy object (maybe a couch) and hold underneathe the couch with your hands. This places resistance away from your back.
c. Once you are able to hold your legs at a 45 degree for a time without shaking, begin to increase the angle of your legs and the duration that you hold them at that point.
**Muscles - Abdominal
__________________________
Exercises on stairs
1.
My Stair Guide
(the last post at the bottom of the thread)
2.
Calf Lifts
- Begin my finding a step that is next to a wall or a railing (for stablization). Place your foot on the edge of the step, your
B-D
area should be making contacts with the step. Slowly push off of the step with your legs. At the heighest point, you should pause for 1/2 - 1 seconds. Proceed by slowly lowering your feet to the level point. You should then slowly lower your feet below the level point. Pause again for 1/2 - 1 seconds and slowly reset back to the starting (level) position. Repeat for as many calf lifts as your can. In order to stablize your self, gently hold onto a railing or wall, but do not use it to help your raise your feet.
This picture shows the two extremes, raised feet and lowered feet. There is of course the level position between the to points where your feet are parallel to the step.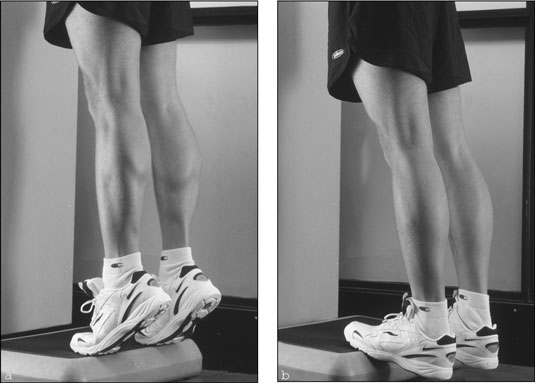 -It is important to remember to stretch
before and after
doing this exercise. A good stretch is the standing wall stretch for each leg:
**Muscles - Soleus/Calf
*This is a living document, therefore information may be added/removed in the future.
Sources:
www.beastskills.com/Freestanding%20HSPU.htm
(handstand pictures)
http://forum.bodybuilding.com/showthread.php?t=994653