~~~The Ten Most Important Mental 'Buzz-Sentences' to Remember~~~
_______________________________________________________
~~~A Roman Intro~~~
It's true what they say, eh? 90% of the game is half mental. A calm player is a cool player. All that. With the correct mindset, you can achieve anything. Now, there isn't some magic thing you can tell yourself that can instill confidence in yourself, and make you the coolest, calmest player on the pitch, who always has his head up with a purpose... But the following should help. I've been told I'm a pretty 'together' guy on the pitch; this captain's armband tells me it must be true.
These aren't hard things to remember, and any one of them should give you reason to put stock in your own abilities and make you believe you can do anything. What you might lack in skill, you can make up for in determination, and just plain mental toughness. So here you are, ten important thoughts to remember in your training...
______________________________________________
1. Nobody owes you anything.
Or: "You will take YOU as far as YOU'RE going to get."
You were put here on this world in the hands of caregivers. Soon enough though, if you haven't already figured it out, you will need to learn to care for yourself. You need to be able to take charge of your own life and skills and realize what might be to some a hard truth: Life sucks. There are people who started with more then what you've got, and people who are currently working to get ahead of you in almost all aspects of life, including football. In order to succeed in life and in football, you need to realize that you are at your own Ground Zero, with nothing gifted to you at all, no matter how hard it seems. You start from the ground up, same as anyone, and it's up to you to make it work by virtue of your own trials and errors, your own desire to get up to practice at six in the morning, and you must make your own luck.
The good news is though, that on the flipside of the coin... You don't owe anybody anything either. By the time you've started to take responsibility for your own devices and actions, and create your own opportunities, you will feel something great that all the greats know as 'a sense of accomplishment'. This is a special feeling because you've worked hard to earn it yourself, and you've actually put time and energy in, and turned it into skill. This skill is all yours, and when someone asks you how you got so good, you can simply chuckle and say 'I did it myself.' This doesn't mean be miserly and mean, and think everyone is out to get you. Now that you are lucky enough to have this knowledge, you should want to share it with whoever you can, especially younger kids. Don't you remember how tough it was? Maybe if you can help just one kid get his start, motivate one life... Maybe then you can call yourself a successful teacher in the true sense of the words.
______________________________________________
2. You are great, but you are not the greatest.
Or "The second best thing you will ever do."
Nobody gets anywhere thinking they suck. You need to believe right off the bat in the skills you have right now, and have confidence that, given a proper lever and a point to stand upon, you can move worlds if you try. You need to understand that all the great potential you will ever have is already inside you, waiting to be unlocked. Yeah, there is always someone worse, but there is always someone better, too. There is always something to learn, and you should never stop learning things, or practicing things until you die. Right up until your last breath, there is always something you don't know, or something you could improve on.
Anybody recognize that man? Some of you may know him as "T.D." or 'one of the greatest power forwards ever to grace the NBA'. His real name is Tim Duncan, but I know him by his nickname: The Big Fundamental. TD is not flashy, nor is he very pleasing to watch. He gets the job done simply down to his mastery of the very basics of the position of power forward: Rebound, crash the rim and pull up J-Shot. These are some of the most basic things you will ever learn in the sport, and are stressed them from the very first day you pick up a basketball. But Tim Duncan is the best because he is the BEST at each and everyone of them (Arguably, now.). Anybody can hit a layup or rebound a basketball, but TD himself has worked and honed this simple skills to ad nauseum, so he can best jut about anybody. Point I'm trying to make is, you're never too big to relearn the basics. For football, that's as simple as a properly struck ball, or an instep pass. The more you work on these, the better rounded player you will be, and the one step closer you will be to being the greatest.
________________________________________________________________________
3) Adversity is good, it develops character.
Or "King of where poor folks reside."
Nobody ever said it would be easy, nobody ever said it would be quite this hard, eh? Well, whatever they said, I would stop listening to them. Some of the world's best players have grown up in the most deplorable conditions, from the slums of urban Brazil, to the obscurity of playing soccer for just a few pounds a week in an amateur league. It all goes back to having obstacles to overcome. As Vince Lombardi once said, obstacles are merely what you see when you take your eyes off the goal. Put simply, if 'making it' in soccer was easy, then it wouldn't be near as fun or rewarding. Whatever problems you have, learn to check them at the touchline when you step onto the pitch, because on there, nobody cares about this life choice of yours, or this mistake you've made. You are all equal people, except for how you display your football skills. There will always be someone with a worse problem that seems to trivialize yours. Growing up on the streets of Brazil, playing barefoot football in the sweltering sun, with only the slimmest chance of being picked up to the big times against some many other hopeful players. Yeah, kinda makes 'Damn, Mom can't drive me to practice.' seem stupid right about now, eh?
Try this. For every problem in your life you can think of that you have, think of one advantage you might have over the next guy that can keep you going until you 'get over the hump'. (EX: Well, my short size is gonna set me back for a bit, until I take the initiative to work out and build muscle while I wait to hit a growth spurt. In the mean time, this allows me a low center of gravity, so it's hard for me to get barged off the ball anyway, and I can pull tricks more easily with this kind of balance.) It's all about perspective. What one person might see as a disadvantage, another person might see as an advantage. You just have to look at it in the right way; find the good.
_____________________________________________
4) Fear is good, it means you still have something to lose.
Or "Get desperate boys."
Life is all about risks. Those who take them can reap great rewards. I'm not talking about insane risks like putting your body on the line for lulz by climbing a telephone pole. I'm talking about having the courage to give something up in order to procure something else. Regrets are for people who dwell in the past, and fear is just your body's way of telling you you are THIS close to achieving something big, or letting it all slip through your fingers like sand.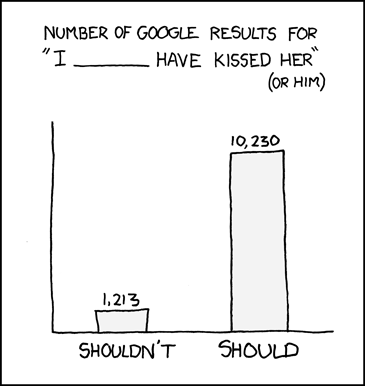 Make your choice, adventurous Stranger;
Strike the bell and bide the danger,
Or wonder, till it drives you mad,
What would have followed if you had
All the greatest sports players and greatest mental geniuses in the world have something in common: The ability to surpass fear and bend some rules in order to become revered in their crafts. Everyone once in a while someone comes along with the courage to change the way stuff goes down, and come up with something entirely new. From this, we have gotten the round earth, modern sports, the best of art and industrial revolution and even medical treatments. In their time they were known as mavericks, but in our time, visionaries. Point is, nothing bad ever came by not playing by the rules, and those who resist to do what they KNOW is right are the ones who are missing. So go ahead, take that job, go to that tryout or kiss that girl. Maybe it won't work out, but knowing is far better then not knowing, and at least you can say you tried, rather then sat there and supposed about what might have been.
5) Overanalysis is for succas.
Or "I'm like a dog chasing cars... I wouldn't know what to do if I caught one, I just... Do."
Stop caring about the consequences or the result, because it's what you do, and how you get to the end result that matters. Sure, all people will remember is the end result, but you owe it to yourself to stop overanalyzing things and worrying if this is the right decision, or if you should be doing this. It applies to everything. There's no better time then the present. If you're waiting for the perfect moment to make a shot or drop in a cross, let me tell, you it will never come. Don't just continue to wait for the opportunities, like I said, be proactive. Everything you do should serve a purpose towards the same common goal, and everything that doesn't retards your forward motion. That's not to say don't think, but on the pitch is the wrong time for such things. Your 'six steps ahead' should've been done long ago, so when you get the ball, you know exactly what your goal is.
http://rtnl.files.wordpress.com/2007/01/thinker21.jpg
Nobody ever said thinking was a bad thing, and rightfully so. It's good to think. Problems arise when you think too much. As we programmers say, no problem should ever have to be solved twice. When you find something that works, there, there is your solution. Practice it, become the master of it, but do not change what needs no changing. Part of thinking within your means is recognizing when change is needed, and when things need to be left well enough the eff alone. This will come with practice, but a general rule is, something is almost ALWAYS as simple as it appears to be, especially in sports such as football. You can break it down into parts, but each part does a simple subsystematic function in the more complicated thing. Take a stepover. The shoulder fake is one thing, the plant foot is another, the foot motion is another. Each is a very simple action that is put together to provide one complex motion. Simple as. Every thing in that motion serves a purpose, from the dropping of the shoulder to the placing of the feet. Chances are, you are over thinking something when your solution has too many parts, not enough flexibility to allow catastrophic failure to one or more parts, and the end result is the only thing that is important.
________________________________________________
6) Flipping out gets you nowhere.
Or "The trials and tribulations of tantrums."
Crying or getting pissed about your mistakes serves no practical benefit whatsoever. All it does is put MORE stress on yourself, thus eventually, degenerating into a vicious cycle that makes it impossible for you to preform at your best. You have planted the seed of doubt in your own mind, and nobody else will believe in you if you don't believe in yourself. Your anger does nothing to fix your problem, and the time you have wasted crying or fussing about it could've bee better spent... I don't know? Actually fixing your problem? For example, you miss a kick, and slice it wide. Rather then grinding your teeth and cursing about how it is everyone's fault but your own, from the ball to your footwear, you can simply go get the ball, and try to correct your mistake. A calm mind will enable you to figure out where you went wrong ('Hmm, why did that happen? Ohh, I see, I struck the ball off center.') and is twice as effective at speeding you along to improving that skill.
What's so bad about making mistakes? It may sound cliche to hear these days, but mistakes are good, because they do help you learn. They are an indication that something is wrong that needs righting, and nothing more. You should take them as such. You will always be able to fix mistakes, no matter how big, if you put equal time into practicing the skill as you would normally be using to be pissed about it. No mistake is unfixable, and no plan or action is immune to having one or more flaws/mistakes. The best of us make few mistakes in the end, but every one is in itself a lesson which has an equal lesson that shows us how to preform correctly to correct the mistake.
________________________________________________
7) Don't think of it as the team puzzle; think of it as the team pyramid.
Or "Pink Floyd was right!"
In a team, not everybody is equal, that's for sure. There are players you can do without, then there are players you cannot. These are known as the 'roleplayers' and the 'play rollers'. It's an eternal rat race to become the latter and not the former, and that should be your biggest goal. In the context of a pyramid, the Superstars are at the bottom, the cornerstones of the pyramid. If you lose one, the whole structure is a liability, and much care must be taken to fix the problem. The least important players on your team are simply stones in the side of it; just other bricks in the wall. What happens when a brick falls out? You get another of the million there are, and replace it, simple as. Your goal is to become as irreplaceable as possible, and prove your worth to the team. However, the team pyramid differs from the puzzle in that the pyramid can lose a substantial number of bricks before noticing any real effect. The pyramids were built to last, just like clubs are. There are a million bricks they can insert when they please, but a good cornerstone only comes along one in a million times. That should be your goal. Recognize which you are, and make strides to be as vital as you can.
So what makes a good cornerstone player of a franchise (On the field, specifically.) You need a number of things. A winning mentality, the ability to be able to absorb all kinds of pressure, and just have the necessary skill to pull something out of nothing. It is said that good teams with good players find ways to win, and those that are bad simply do not. Demonstrate your worth to your side by being cool through the biggest moments of your season, and using the skill you have accumulated to come up big when you can. Something a lot of people don't get is the dependency factor. Good players have teams that depend on them, but GREAT players do not. Why? Because great players are able to distribute their workload around, and make their teammates better. It is comparable to a pyramid leaning a little heavy on one side. Sure, the cornerstone that holds it up is a strong one, but eventually, it will break under the strain. The best engineered teams with the best fitted cornerstones spread the workload among several cornerstones of equal quality, and this contributes to team and pyramid stability.
_________________________________________
Winners never quit, and quitters never win.
Or "How do you expect to WIN at LOSING?"
I couldn't have said it better then the picture does. The only things you need to quit to have a good football mentality are all your bad character flaws. Giving up on anything is not what winners or great players do, they simply work even harder to fix things. The hallmark of a great player is how he is able to deal with stresses in his life, and translate them to successes. Nobody ever gave up or apathicized their way into the history books in a good fashion. Those who are admired as players and those who are good as players are those who are able to take their problems, and work through them; not the ones who succumb to the pressure like weak cornerstones. (See above.)
It's never too late to start, is how the saying begins. Telling yourself these things or listening to other people tell you things won't work out, it is too late, or football is not for you is stupid, and borderline cop-out. The only voices you need to listen to are the ones that tell you you can, and are willing to offer constructive criticism to help you get there. The voices that are trying to hold you back are jealous of the potential you might have, and are upset they do not have what you possess: The ability to go places. The later you start, the harder it gets, for sure... Which is why you should not waste another second. Just because you are behind should never mean you are down and out. There is always hope if you want there to be, all you need to do is take control, and make things happen for yourself. The worst thing you can do to yourself is instill a mental block that you 'cannot', because you are robbing yourself of the one thing you need to succeed: Your own self-confidence. Every doubt, every thought that you may have about failure needs to be purged from your mind as you set your eyes on your goals ahead, and work hard to achieve them.
___________________________________________
9) Help is not meant to be foresaken; just scrutinized.
Or "Looking gift horses up the ass."
It's a long and winding road to the top, and along the way, you should take whatever help you can find. Support from friends, boyfriends/girlfriends, mentors, ExpertFootball, parents and coaches and etc. are all great to have. But you have to ask yourself seriously... Are any or all of these influences the kind of ones I want? If you find yourself questioning the support of any of these, there is no reason you need to continue to follow it. You need to be able to sort out the good and bad influences in your life soon enough, and again, no time like the present. Every time someone comes to you, and says something along the lines of: "I can help.", your mental question that you shoot back immediately should be 'Really? How so...?' Decide if this person truly is supporting you, and if for the right reasons. If it is someone like a coach, do your best to learn from them, but don't learn blindly. Openly think about everything you are told, and see if it makes sense. Ask questions and practice methods so you fully understand what you are being told. Previously, I told you that you need to take responsibility for yourself, but that also includes which influences you allow to help you along, and which you do not. It's a very personal choice you must make yourself.
The good news is, while the bad influences can hurt and hinder your success, the good ones can certainly go a long way in helping you to the top, and making it a more enjoyable ride. Surround yourself with close friends who will help you up when you fall, and praise you when you do well, and you will find it will be a much easier journey. If you are unlucky enough that it seems you have hate and pessimism coming at you from all sides, at least make the conscious decision to start blocking out those negative influences now, and begin making smart life and friendship choices for yourself. It's the best thing you can do as you continue to work towards getting a properly cut out football mentality in the books.
_______________________________________
10) A kite flies on a string, not a stick.
Or "Loose. Get LOOOSEEE!"
Great athletes have balance, it is always said. One of the best things you can do to keep a consistently good football mentality is have the ability to balance your footballing with other important things in your life like friends, family and schoolwork. Your plan should not be set in stone, and have much room for change, as that is what the best do. For an example, a stiff wooden chair falls over easily in a hard blast of wind. While a papery dreamcatcher appears flimsy, it is able to hold up to this element by embracing it, rather then fighting it and thus, is able to last longer. Be able to recognize when you've taken something so far that it is interfering with something else, and be able to make the decision on whether that is good or not, and what to do about it. It will help you in the long run if you tackle problems like that early, rather then letting them fester and grow.
One of these days, you are going to need to do something with your life. If that is not football, it is always wise to have a 'safety net' or fallback plan in place. This will allow you to be more comfortable with your endeavours, as it does not have to be the be all or end all for you. The security that having a backup plan will afford you will allow you to be more open and realistic with the means by which you train, allowing for a clearer mind and hence, a better mentality. It's all part of a trickle effect.
~~~Closing Comments~~~
I hope those ten fleeting thoughts were useful to you in developing a proper mentality for training or playing football. If you ever have any doubts as to your direction, or need some kind of motivation to do the above, the ten sentences and the backing descriptions should help you clear your head, and get back on track. Thanks for reading guys, and I hope you put those thoughts to good use.
~~~A Roman Production~~~