Veteran Member
Posts: 1630
Joined: 25 Mar 2005, 19:39
I personally think ronaldinho is better than ronaldo. not because he is more skillfull, smarter, and fitter, but also because his attitude toward the game is good. He can be a role model for children, but ronaldo cant. especially because he is arrogant and gets mad easily. respect is something you need. especially when you are young like ronaldo is. he should be more like ronaldinho and have a better attitude towards the game.
Last edited by
*~El Maestro~*
on 02 Nov 2005, 19:45, edited 1 time in total.
---
---
Senior Member
Posts: 114
Joined: 03 Nov 2005, 09:07
Location: London
Ronaldinho, but apparently cristiano was claimed as the best footballer on his island at 12. I support barce for spain and man utd for england, but if i wanted to see more from cristiano i think he should leave united and play for a side like barcelona who have much more passion for the game. They have fun when they miss or lose the ball, and they stay happy and score, together!
Mentality
---
*yung-ital* wrote:what does that have to do with anything?

i completely 120 percent agree with jdefoe about ronaldo screwing up the game for kids. they see all these stepovers and moves and now kids on other teams just keep doing it and get checked. i had to replace a coach the other day, for u-11, as well, and the same results happened. no crosses were swung in, just people tryna get passed eachother.
ronaldinho play makes, and has a great attitude. i think thats much better then telling kids to stop copying his "move" and not passing the ball and being a glory hog
Are you for real? Of course kids should imitate/play like the best.
The earlier the better. Football should never be a science for kids - it's a game, have fun - play.
But hey.. Maybe that's why football is so bad in many ways in North-America..
How do you think Ronaldinho learned so many tricks? It most definately wasn't because he met a coach who said "No, you're not old enough to do that, learn the basics first" - dribbling, ball-control are basics.
---
when u do all these tricks just to make a fool of a player on the pitch its dumb because alot of kids go out and play and say "wow man i juked this kid and i made him fall on his ass." and then when u ask em what happend next they said they tried and pass or score and and completely failed either a horrible pass a terrible shot at goal and then u tell them well that sucks cus u did all that and failed and they say so but i made a dude fall on hes ass that gets me mad cus they just care of that part and not the missin a opportunity of helpin ur team win.. all these tricks are useless if u dont suceed at the end. so kids need to realize that u dont need to do all this fancy sh*t to be successful in football if u do ur job and do it well then it should work out not sayin this tricks are bad cus there not but u cant depend on em because most of the time it makes u look like a ball hog showoff or a plain dumb player. but just dont rely or practice on just this aspect.
---
oke people.... this cool discusion about the 2 best soccer players of the world must end here becasue we've talked enough about them.actully sorry to say this.if you ask my opinion i really think and the fact is that ronaldinho is the king of soccer and also is called soccer genius casue on the field its just like ronaldinho plays with the oponents and did you just saw that moment when ronaldinho was juggling the ball for fun and behind him were 2 helpless defenders that coudn't even get the bal from him?.and ronaldinho does strange tricks that no other soccer player did before but really we must give aplausses to ronaldo too becasue of his amazing ball speed and control and steppovers etc.he startet in sporting then moved to the biggest club of the world manchester at 20 years old! ronaldinho was in gremio when he was 20.both players are christians and always pray to god.i hope they wil get a long soccer career until 38th of age.

who ever wants to see the clips well im the person that has them.i watched them 100 times and loved them very much.i downloaded the clips at emule.i can uploud the clips trough yousendit then you all can download.after you wacthed the clips,you can THEN finally know who the better man is.
the ball is a part of my body!
---
Veteran Member
Posts: 1630
Joined: 25 Mar 2005, 19:39
the 2 best soccer players of the world
I disagree with you on this point. cristiano ronaldo is very good but still needs a little more experience, and needs to calm down sometimes(he always gets yellow cards for dissent)
---
Veteran Member
Posts: 1921
Joined: 19 Feb 2005, 04:00
Location: Pittsburgh
i agree. cristiano ronaldo is a decent player, but he's way overrated. with individual skills, he's good. i'll give him that. but as far as playmaking and actual game skills go, ronaldinho is by far the better player.
Hala Galacticos
---
Junior Member
Posts: 79
Joined: 16 Nov 2005, 02:46
Maybe we should give ronalod more time ,he is still young.But he has much confidence .he would develop much in a few years.
many pictures about ronalod
my webpage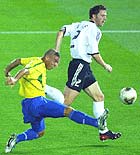 ---