Hey guys. I thought I would make a guide to the Instep Kick or Drive, to stop all the questions coming in and wasting experts precious forum space.
In this guide, I will cover everything that I know including dip, knuckle, swerve, power, placement, plant foot, and everyhting else you need to know.
So, here goes nothing
LOCATING THE INSTEP
So, to take a shot with the Instep, you need to know where the instep is,
correct? Of course I am, I'm Keller! Everyones instep placement is different, so I'll show you how to find it.
First, put your Index inger(pointer), on the base of your big toe. Now, move your finger up the top of your foot towards your ankle. Press down hard while moving it up. You should find a bone around the middle of your foot, in line with your big and second toe, that is very hard. That my friends, is the Instep. If you don't understand what I mean, look at this picture. The Instep Is circled with red.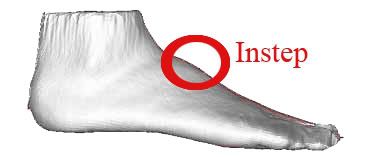 Of course, your instep may not be as high up your foot as that, but it will be in roughly the same area.
LOCKING THE ANKLE
To hit an Instep shot properly, you need to lock your ankle. Otherwise, you will have no accuracy or power, and as a result, your shot will be very poor.
To successfully lock your ankle, it needs to not move when taking the shot, otherwise, you may not contact the ball correctly. So to lock your ankle, point your toes down to the ground, and curl your toes down to try and touch the sole of your foot. Don't hold it for too long, it might hurt or damage your ankle. You will notice though, that the instep slightly protrudes from the top of your foot as you lock your ankle and sorta widens the foot. This makes the striking surface bigger, giving you more placement and accuracy in your kicks.
ANGLE OF STRIKING FOOT
The angle of your striking foot is very important in striking the ball. The strike on the ball should be very clean and should sweep through the ball. Having your toes pointed directly downwards makes that very hard to accomplish. So, I point it slightly on an angle of about 45 degrees to the right(I'm right-footed). This is how you should place your foot when taking an instep kick.
Right foot----------------------------------------Left Foot
Props to Flying Moose for these pictures. Thanks a bunch bro.
THE RUN UP
Your run up is very important also. If you run up to the ball slow, your going to get no power in your kick. If you run up too fast, you may lose your footing or screw up the plant foot positioning which I will talk about soon. Watch Roberto Carlos when he takes this super freekick.
http://www.youtube.com/watch?v=ceFtwgSe3PM
See his little stutter steps? Thats what he does to get his feet into the right position for his plant foot. Then, after his stutter steps, he runs with
QUICK STEPS
, to accelerate faster. Then, he hits the ball at his
HIGHEST POINT OF ACCELERATION AND SPEED
. Thats where he gets his power from.

THE LEAP
So, you've run up to the ball. and its all going great. But wait, you need to draw your leg back don't you? So you have to leap. When you leap, leap from a distance far enough so you can draw your leg back, but not so far that you can't reach the ball. Try and leap forwards, rather than upwards, and you will get axtra power from your forwards momentum, rather than jumping up and losing it all. Remember, Its a long jump contest, not a high jump one.
THE PLANT FOOT
The Plant Foot is sortof hard to explain correctly. I'll do my best. The Plant Foot's toes have to face directly into your target, wether it be the top corner, or the bottom. The Plant foot should be about a balls width away from the ball. You should have the middle of the inside of your plant foot inline with the centre of the ball. Don't keep your plant foot on the ground for too long though, otherwise you may lose your forward momentum. Say you were sprinting hard out. If you kept one foot on the ground for too long, you'd lose forward momentum. Hope I helped with that sorta.
LEANING AND KNEE OVER BALL
Averyone tells you that when you shoot you have to lean over the ball. Thats just a way of getting you to strike the ball before the bottom of your legs swing in an arc shape. Hope I'm making sense. Like one of those Viking Ship rides that swing backwards and forwards in an arc motion. Imagine your leg is like that. If you lean over the ball, you'll hit it before or at the bottom of your arc, making you hit it low with more power and speed. If you lean over the ball, your knee will be over the ball, hitting it before the bottom of your arc. Hope this pic helps.
Thanks to Jdefoe for the picture.
THE FOLLOW THROUGH AND HOP
In a perfect Instep Drive shot, you want it to be low, right? Right! So, to keep a shot low, follow through low. Its hard to explain, but don't bring your leg above knee heaight when following through, otherwise, your shot may go high in the air and "loop". Looping is when it goes high and loses its power. Now to the hop. Some people hop when they follow through. I don't, because it doesn't feel natural for me. If it does, do it, and if it doesn't, don't. Experiment with different folow throughs and hops, and see what feels comfortable and gives you power. Once you find that, you'll own.
Now, for some more advanced Instep Drive skills like Dip and Knuckle.
First Up, dipping the ball.
DIPPING THE BALL
Dippng the ball is an extremely hard and useful skill for footballers, especially on a freekick. Dip is where the ball isgoing higher in the air than normal, perhaps even above crossbar height, than "dips" or curves downwards or drops, often beyond the reach of the keeper. Dipping makes the ball look as if it will go over, so the keeper doesn't bother to go for it, but then it drops in the net, leaving the keeper looking stupid.
Just like CR7 does here:
http://www.youtube.com/watch?v=ycfWYJf_ ... re=related
Dipping is easy to learn, but hard to master. All you do is do what you would normally do for an Instep Drive, but plant your plant foot further infront of the ball, lean back slightly, and follow through to around knee height. Thats all it is.
KNUCKLE
Knuckling the ball is actually really simple. All it is, is a really powerful instep drive with no spin. Ideally, every instep drive should have no spin, but people seem to get a hard time getting it. So thats all there is to it. Hit it dead centre, flat on the instep, with NO SPIN. Check out this video of Cristiano Ronaldo hitting a freekick with the knuckle technique.
http://www.youtube.com/watch?v=8efYl5CaNhQ
Thats how you do it.
OUTSIDE SWERVE
Outside Swerve is also simple enough. All you need to do is alter your foot position on the ball. Remember how I said the ball hitting it with your foot on a 45 degree angle? We're going to do that again, but this time, the other way. I can't really explain, but point your toes(if right-footed) to the bottom left hand side of the ball. For lefties, bottom right. You should still strike the ball on the instep and should follow through to the outside of your body. Watch this video of Quaresma. Thats what helped me to get it.
http://www.youtube.com/watch?v=kNoFJTOEUPg
INSIDE SWERVE
I myself find it really hard to strike an inside bend with the Instep. Its hard, but do-able. Instead of striking it in the centre, strike it slightly on the right hand side(for right-footers) or on the left for lefties. Then follow through towards the centre of your body.
Thats the conclusion of my guide. If there is anything I have missed out, or any questions regarding any section of my guide, please, just post here and I'll get back to you. Hope you guys learn something.